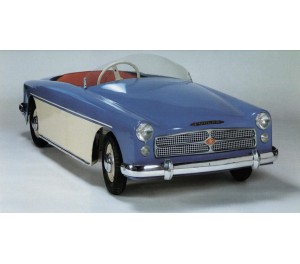 The ephemeral museum of Eureka toys opens its doors
The Spark Compagnie , the Community of communes Lyons Andelle (Cdcla) and the brand of toys Eureka invite the public to discover the ephemeral museum dedicated to Eureka toys , manufactured several decades ago in Douville-sur-Andelle .
This original exhibition is offered on the site of the Vergez Blanchard factory on Sunday May 19 at Romilly-sur-Andelle , in Eure < / strong>.
A museum dedicated to childhood
In a fun and offbeat atmosphere, visitors can discover the small ephemeral museum.
An unmissable opportunity for young and old to rediscover a childhood scent, a memory of the past, to discover or rediscover the missing treasures of Eureka which made so many pupils shine and experience extraordinary imaginary adventures to toddlers in shorts.
On Sunday May 19, the opening day, the public will also have the opportunity to attend unusual tours, specially concocted by the artists of the Spark Company .
Immerse yourself in the world of toys
Throughout the exhibition, a reading corner with the libraries of the territory will be available to readers. An exhibition of birds made as part of the Workshop and other activities await visitors.
Various activities will punctuate the opening weeks.
At the museum, a game day is organized on Wednesday, June 5 with the childhood and youth department of the CDCLA.
At the Jacques Prévert media library in Romilly-sur-Andelle , an exhibition "Toys for children of Africa" ​​is offered, from May 20 to June 28 at the timetable opening of the media library.
Ephemeral museum to discover Eureka toys , from Sunday May 19 to Sunday June 30.
Opening on Sunday, May 19 at 4 p.m., at the Vergez Blanchard factory, 178, chemin du moulin des bridges, Romilly-sur-Andelle. Free, general public. Open every Wednesday from 3 p.m. to 7 p.m., Saturdays, Sundays and Whit Monday, from 3 p.m. to 6 p.m. Rens. 02 32 49 61 27 and on www.cdcla.fr

Article to find on: https://actu.fr/normandie/